Posted:
Wednesday, January 9, 2013 12:00 am
|
Updated: 8:31 am, Wed Jan 9, 2013.
Penelope Cake,
of Cape May, once danced "Red Checked Life" in an empty storefront in New York City's garment district.
She decorated the window and store in everything red-and-white checked. Then she danced, "of course dressed in red-and-white checked clothing," she said. It was all visible to passersby.
"It was one of those great (city) things where you don't know if what is going on is real life or art," Cake said.
Cake, 56, moved to Cape May about a year ago after a 35-year career as an artist and dancer in New York. She is the volunteer artist-in-residence at VIMspirations, the new thrift shop benefitting Volunteers in Medicine of Cape May County, at 600 Park Blvd., West Cape May.
At the shop, Cake gives impromptu craft lessons using donated materials. She can tell you how to make new clothing from donated apparel.
"You can take the sleeves from one sweater, and put them on another," she said as an example, while teaching this reporter to make an origami gift box from recycled holiday cards.
Her art is based on upcycling — using materials that might be thrown away to make something of value. She makes jewelry out of hardware and game pieces, art journals and boxes from books, collages from varied items, and knits and crochets using yarn made from T-shirts and plastic bags.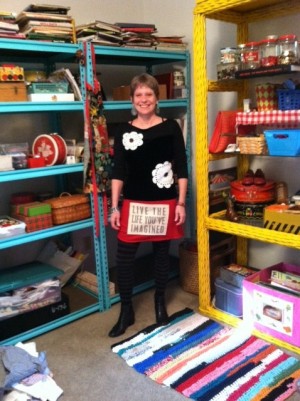 "My goal is to encourage people to be creative, especially through the reuse of things that might otherwise end up in a landfill," she said.